On December 15, 2020, at 9 am Eastern Time, the first meeting of the Fourth Council of the International Society of Environmental Geotechnology (ISEG) was successfully held in the form of an online Zoom meeting. The current council is composed of 41 council members from 20 countries and regions. The meeting reviewed and approved the revised ISEG Statute, and announced members of the Fourth Council and Executive Committee approved via correspondence. Professor Bin Shi of Nanjing University, China serves as the President, Professor Chao-Sheng Tang of the same university as the Secretary General, and nine Vice-Presidents are responsible for ISEG work in East Asia, South Asia, Middle East, Eastern Europe, Western Europe, Africa, North America, South America, Pacific, and Australia.
At the meeting, 95-year-old H.Y. Fang, the father of international environmental geotechnology, expressed his congratulations on the opening of the meeting by video. Professor Hilary Inyang, the Honorary President of ISEG, gave a warm speech. The new President, Professor Bin Shi, give his appointment report work plan on the topic of opportunities and challenges of ISEG. The new Secretary General, Professor Chao-Sheng Tang, explained the formation of the new council and executive committee. The participating councils had a lively discussion on the future work of ISEG and looked forward to the development of ISEG faster and better under the leadership of the new executive committee.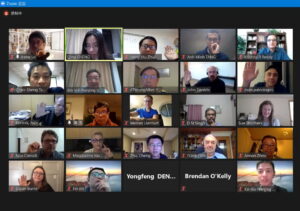 ISEG was established in 2000 at the 5th ISEG Conference held in Belo Horizonte, Brazil. The registered place is North Carolina, USA. It was co-founded by H.Y. Fang, founder of the Environmental Geotechnology discipline, and Professor Hilary Inyang of the University of North Carolina at Charlotte. The society is committed to promoting the progress of environmental geotechnology and the sustainable development of environment and resources on a global scale.